Florida Fish Report
HM Fishing Report 3-31-23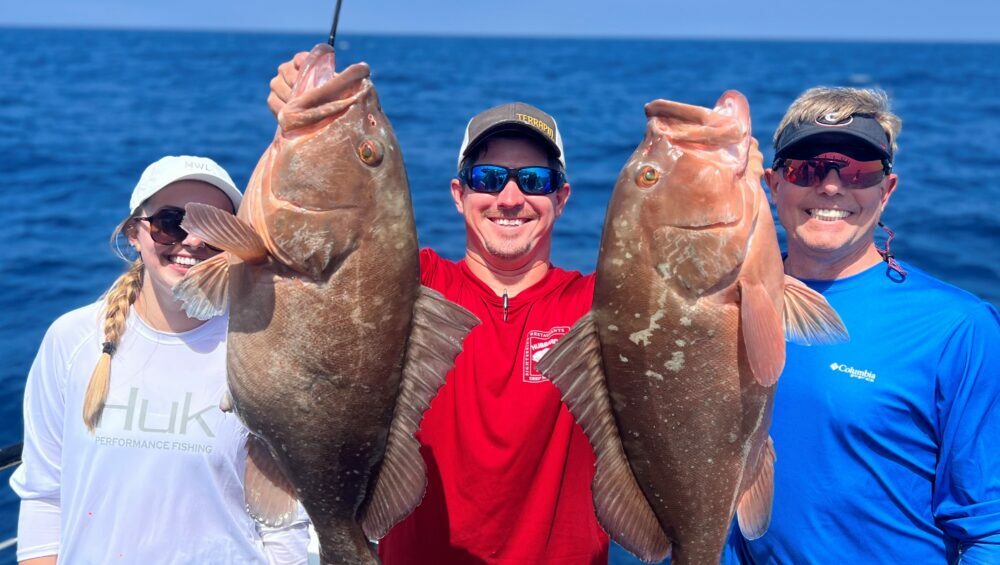 Red Grouper
by Hubbard's Marina Staff
3-31-2023
727-393-1947
Website

Snook fishing has been really good around the area the snook are pouring out of the Back Bay water. We see snook already in our passes and even some on our beaches too. It's like we almost completely skipped spring and moved to summer in some areas. However we still see a really good springtime bite around our local grass flats, mangrove shorelines and different areas as those snook move from the Back Bay to the passes and beaches. We're seeing them really keyed in on the white bait but live shrimp still work well and of course the soft plastics, the swimbaits, the hard plastic jerk baits are all good options; virtually anything presented naturally is gonna give you an opportunity to catch and wrangle a snook. Be mindful of those solunar major and minor tidal ranges to get the best opportunity for more actively feeding snook.
Trout action is going well around the area we see a lot of those trout on the move from their winter time Hangouts in shallower flats to a little bit of a deeper area. Those potholes, cuts and even some of our local beaches are holding some pretty nice sized speckled trout who are actively feeding well on live shrimp and white bait as well. Trout love those soft plastics especially slow moving soft plastics or slow moving swim baits.
Redfish action has been active around the area we're seeing redfish really move around actively and feed aggressively in some schools but also the ones and twos around our local flats mangrove shorelines and some dock lines as those fish migrate to and from the passes to spawn. We're seeing the redfish really active on the soft plastics the live shrimp and the white bait for the most part they've moved right away from the crustacean bite but they're still taking the occasional live shrimp.
Pompano action is going well around our sandy passes and along our beautiful gulf beaches and local fishing Piers around those sandy areas. We see the Pompano feeding on live shrimp and minimal weight like a split shot with a live shrimp is a good option with 15 to 20 pound fluorocarbon especially around those little troughs that run parallel with the beach. It's a good area to look for those Pompano cruising up and down our beautiful beaches. We're also finding plenty of Pompano using the Pompano jigs like the docs goofy jigs or the crazy jigs the naked ball jigs and sometimes even those small the feathered jigs.
Black drum are still active around the area we're seeing black drum around some of the dock lines the bridges and also occasionally around local grass flats too. Black drum are generally found using live shrimp on the bottom but can also be found using crabs for bait too.
Jack Crevalle are still around the area starting to thin out a bit but we're still seeing good numbers of Jack carvelle in the early morning around our Back Bay areas and around some local canals and cuts. We also see them pretty active late afternoon into early night time as well. Generally chasing schools of bait and concentrating the bait along seawalls docks or structures will get them into a feeding frenzy which makes them easy to spot and easy to target.
We're seeing some flounder around our area. Flounder fishing is picking up around those sandy drop offs and the sandy patches of the grass flats and also even around some local dock structures. We find the flounder most actively feeding live shrimp or bait fish waited to the bottom or slow moving soft plastics right on or just above the bottom.
Hogfish action is still going well near shore but has definitely slowed down a bit. The hogfish bite still persists throughout the entire year but slows down as the water warms up. Those hogfish tend to spread out move around and get a little bit more difficult to target with high success via hook and line. However we're still catching a few of them on our five hour half days and 10 hour all days and some of those private fishing charters as well. The best way to target them is definitely live shrimp; lighter tackle and minimal weight on some of our areas of small ledges or flat hard bottom.
The big news near shore Is definitely the mackerel action as we see more and more mackerel feeding well along our beaches and artificial reef structures and some of our larger natural bottom near shore. We're also seeing some pretty good kingfish action mixed in there near shore especially around 40 to about 80 foot of water and beyond. Kingfish are generally caught while trolling and flat line fishing.
Lane snapper action is going well near shore we're seeing a lot of the lane snapper while fishing on our 10 hour all days and about 50 to about 100 foot of water. Lane snapper love small pieces of live shrimp but they'll take cut squid or cut thread fins too. We're also seeing some pretty decent mangrove snapper action fairly consistently using small chunks of threadfin and the double Snell rig. Mangrove snapper also like live shrimp and we generally do pretty well targeting mangrove snapper with live shrimp.
Red grouper action has been going well throughout our near shore deeper waters from around 70 to about 100 foot of water is a good area to look for those keeper red grouper. We see a lot of the juvenile red grouper mixed in but we are able to find a few keepers using bigger live pin fish larger strips of squid or whole thread fins with the tail cut.
Offshore fishing is definitely going well around our offshore waters and we're excited as we move into April that deep water closure for our shallow water grouper complex has concluded. This means we will once again be able to fish any depth and keep those scamp grouper, red grouper, strawberry grouper and any shallow water grouper complex. This allows us a lot more flexibility during our trips and should afford us many more options in areas to fish. Generally, we'll do a lot better on the mangrove snapper, fat red grouper, triggerfish and other species right behind this closure as those deeper water areas have been given a two-month break. Often people will avoid the months of February and March assuming you can't keep red grouper but that's simply not true we've been doing well and been catching some nice red grouper. However now with the flexibility reopened to fish anywhere it affords us a lot more area to fish, a lot more flexibility in our trips and as a general sign of relief for our captains and crew. Plus, it makes It easier to plan a trip because anywhere we fish we're gonna be able to keep those red grouper. Hopefully you'll join us soon for some great opportunities that's some big triggerfish big Vermillion nice porgies solid men grow snapper and fat grouper.
Pelagic action has been going well offshore too we've been seeing some nice big blackfin tuna some solid kingfish, the occasional wahoo and you never know what else. You have a shot at cobia you have a shot at sailfish maybe even a mahi-mahi.