Florida Fish Report
Lots of Snook Action Going On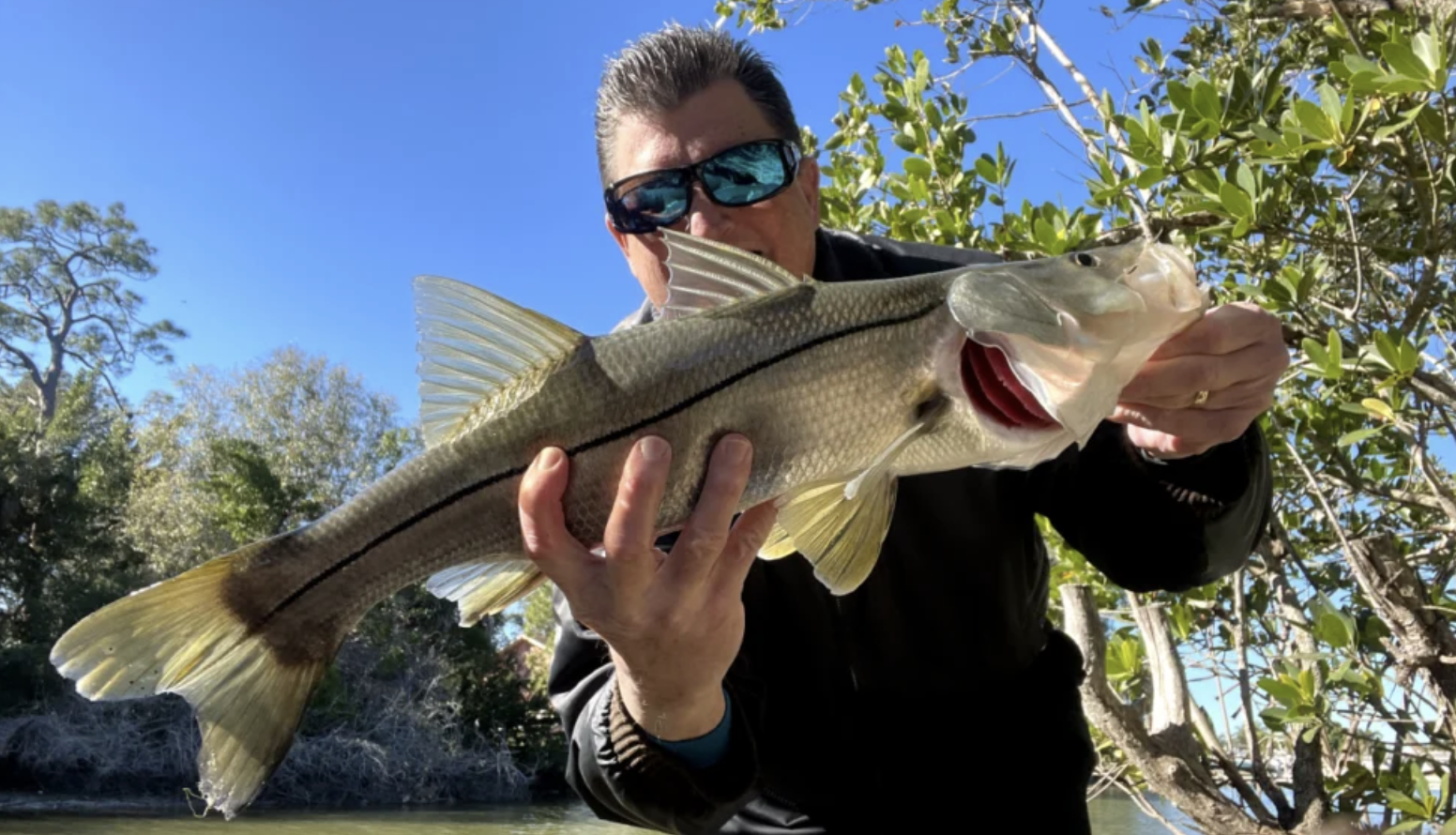 Photo Credit: Hubbard's Marina
by Hubbard's Marina Staff
1-27-2023
727-393-1947
Website

Inshore Report
Sheepshead action is definitely king inshore this time of year we see a lot of sheepshead around local docks Piers bridges jetties great time to target the sheepshead on virtually any structure in the area. Those sheepshead love hanging out around areas that collect and grow barnacles oysters clams or any sort of molluscs or bivalves and even crustaceans. Sheepshead love biting small pieces of shrimp cut oysters cut clams they have very small mouths so small piece of bait is key. We typically use anywhere from around a size 1 to a one out hook for the sheepshead. Minimal weight is also a good idea when targeting sheepshead as they can be a little leader shy all you need is enough weight to keep it in the strike zone near a rock pile a piling or dock. Typically folks will use light knocker rigs split shots and even jig heads as weight options and rig options for those sheep set.
Redfish action has been going pretty well throughout the area especially when you can find that residential dock line holding redfish. They love live shrimp this time of year especially on the dock lines a light jighead with a tail hooked live shrimp is a great option casted up underneath the dark line or around the edges of the docks. Redfish typically will congregate around certain docks with bottom structure more conducive to holding shrimp crabs and other crustaceans. Redfish this time of year are very keyed in on the crustacean bite. Bait fish becomes a little harder to target and thus the red fish go for the easy slower moving targets like shrimp and small crabs. You can also use cut bait to target the red fish they typically will fall for cut threadfin pin fish sardines and other options.
Trout this time of year Are pretty active. We also typically see a larger size trout on average this time of year as well. We are coming off that new moon and around this past week with lower moonlight at night we've seen a lot of trout concentrated around dock lights bridge lights and virtually any artificial light source at night. However as the moon increases in size and we get more and more moonlight each night the trout concentration around dock lights and bridge lights will subside a bit. During the day you can find concentrations of trout around shallow grass flats especially edges potholes cuts all good areas to find the trout. Trout love live shrimp slow moving soft plastics and even small pin fish.
Snook action is going pretty well around the area especially in the upper and Back Bay areas we're finding some pretty actively feeding snook. The snook are really active around creeks and rivers and bayous especially at the mouth of these areas where moving water is a little more common and those snook can stay a little warmer. Look for areas of mangrove shorelines that are sun drenched in the mid to late afternoons for the greatest success. You can also look for wind protected shorelines areas that were protected from the wind overnight and through the early morning generally are gonna have a little bit warmer water and a degree or two warmer water is all you need to find in order to find actively feeding snook. Snook right now are really biting well on a variety of different baits but slow moving soft plastics are always king this time of year when water is cold and fish are more lethargic. We are even seeing some snook out around the islands of Johns pass and there's even been a couple caught around the docks here at hubbard's Marina this past week as well ironically. However it is not typical the sea snook numbers in the past especially with the water temps as low as they are but there seems to be persistent fish moving around even in the early morning hours. The majority of fish are pushed back into the Bay around Bay Pines in the entrance to long Bayou and up in the narrows north of us around those mangrove shorelines.
Black drum are also super active right now we've been seeing a lot of black drum around bigger dock structures local bridges and even some of those oyster bars and mangrove shorelines. Black drum love live shrimp and we've been seeing them feed pretty actively throughout the day. Black drum will bite even cut crabs or small crabs but typically we're using shrimp to target the black drum.
Out on the jetty and on the beaches we've seen a lot of activity from the silver trout Whiting and even a few Pompano. However you have to look for areas of cleaner calmer water which can be tricky during these periods of more turbulent weather. However later this weekend and through this upcoming work week we should have a real good opportunity and some calming clearer water on the beaches which should increase significantly the chances for targeting Pompano successfully from the Johns pass and other area pass jetties.
Nearshore Report
Hogfish action is going well near shore we're seeing lots of hogfish on our five hour half days and 10 hour all days anywhere from around 30 to 70 foot of water is a good area to target those hogfish. Hogfish love light tackle live shrimp and minimal weight. We're having a lot of success on the hogfish using that knocker rig setup with three to five red beads between the egg sinker and hook. Live shrimp is definitely king for hogfish bait but we've been seeing them bite on fiddler crabs sand fleas rock shrimp and a variety of other options too. The hogfish bite typically is really good for us all the way through until around March April when it starts to warm up as it starts to warm up we typically will see the hogfish spread out and get a little harder to concentrate. However we do tend to catch hogfish all the way through the year just gets a little less common once water starts to warm.
Lane snapper are super prolific throughout the near shore waters we're seeing a lot of lane snapper action from any depth really near shore and even into our offshore waters their average size has expanded exponentially and the area in which we catch lane snapper has also expanded exponentially. We're seeing those lanes snapper bite on almost anything but primarily we catch them using cut squid or live shrimp.
Red grouper action is going pretty well near shore too most of the red group reaction near shores and deeper water anywhere from around 70 to 100 foot is where we start to see those red grouper most commonly inside of 70 foot you can catch plenty of red grouper but generally they're going to be smaller undersized fish and it takes a lot of work and persistence to catch a keeper size red grouper however you can do it we're catching keeper red grouper as shallow as 40 foot of water but very few and far between shallower than 70 to 100 foot once you get past 100 foot of water red grouper action is very good out in offshore waters which we'll get to shortly.
Mangrove snapper action is going well in the deepest near shore waters as shallow as around 50 to 60 foot of water we see those mangrove snapper biting pretty consistently near shore. We typically catch mangrove snapper near shore while targeting the hogfish using live shrimp for bait however we also will catch them if we have anglers on board using double Snell rigs with smaller three to four hooks and small chunks of cut threadfin. However it's less common to see people targeting mangrove snapper more often people fish the knocker rig with the beads and live shrimp for the hogfish.
Offshore Report
Big red grouper and high concentrations are super common right now offshore. We're seeing a really good red grouper by every chance we're able to get offshore. The weather has been tricky and challenging not allowing us to get offshore as commonly as we would like. However when we are able to make it out there anywhere from 120 to around 2:20 we are seeing incredible red grouper action. They're biting live baits dead baits the slow pitch jigs virtually anything we throw the red grouper are biting really well. If you want an opportunity to catch plentiful red grouper now is a great time to get out there and target them. We're also seeing some nice scamp grouper action offshore especially the closer you get to 200 foot scam group are more common. We typically see those scamp intermixed with the red grouper one targeting them on potholes and some solid hard bottom. Scam grouper typically likes small pin fish and cut thread fins.
Big mangrove snapper have been pretty common out there in the offshore waters too we're seeing nice mangrove snapper using cut thread fins and the double Snell rig. Offshore and deeper water past about 120 foot almost always we're used about a four three to four inch piece of cut thread fins with double Snell rigs. Also we catch really big mangrove snapper on smaller pin fish in the single hook rig but definitely more of an advanced style to target the mangrove snapper.
Big Vermilion snapper have been common once we're out there in deeper water past about 140 foot of water. The Vermilion snapper they love squid and we typically will catch them on a variety of different cut they options but most of the time it's cut squid or cut threadfin. Vermilion snapper get extremely larger once we're beyond 160 to 180 foot of water.
Pelagic wise we are seeing a few blackfin tuna out there in the offshore waters while trolling flatline Or vertical jigging. However tunar most commonly targeted and caught using the trolling plugs like the rapala X rap magnum 2030 and 40s. We're also seeing the occasional wahoo out deep but you have to get a little bit lucky to be in the right place right time with the right bait out. Flatlines are important because you never know what might be swimming by your boat like a big tuna kingfish or wahoo.