Florida Fish Report
Hubbards Marina Fishing Report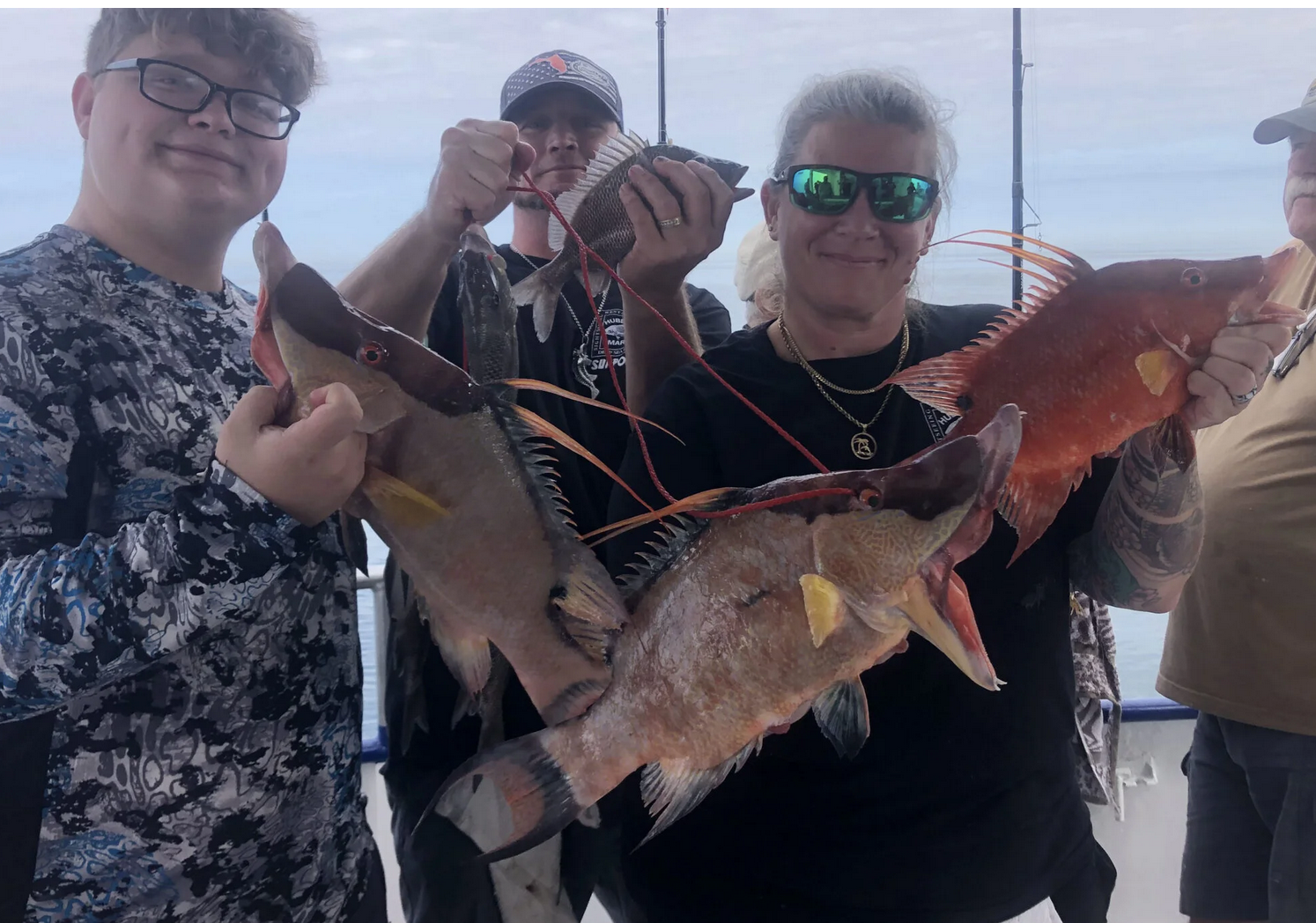 Photo Credit: Hubbard's Marina
by Hubbard's Marina Staff
2-2-2023
727-393-1947
Website

Inshore Report
Sheepshead fishing is going well in shore right now especially with the cold front blowing through currently! The sheepshead bite should be even better through the weekend due to front, and we got that full moon pushing more water and creating stronger moving tides which typically will get those fish feeding even better too! Look for them around docks, Piers, bridges, jetties, seawalls, and really any sort of hard structure that allows growth should promote plenty of good sheepshead action right now. Sheepshead love fiddler crabs, oysters, clams, barnacles, and even small pieces of shrimp. They typically, we like to use smaller hooks around size 1 to 1ot. Sheepshead have very strong mouths that are very bony, so you want to use a hook that's got some meat to it, so it won't bend or break when you hook a nice sheepshead. They also put up a decent fight, so you want to make sure that you have a reel with some drag power to it. Minimal weight is key when targeting the sheepshead so that way you're able to pull those sheepshead off the pilings before they're able to break you off in the hard structure that you're fishing.
Black drum action is going well around our area we're seeing a lot of black drum around those mangrove shorelines, dock structures, and bridges of the area. Especially in the morning and later afternoon it's a good time to target the black drum. They love large shrimp on the bottom or even crabs as well. Sometimes you can find them around the passes and even on the beaches too. When your able to spot them on the beaches often they are moving in schools just beyond that first sandbar.
Redfish action is going really well around our residential canals and dock lines. The redfish are really keyed in on crustaceans this time of year so typically live shrimp is a great way to target the redfish. Also, small crabs are a great option for redfish too. These fish can hardly turn down a crustacean put inside their feeding range. We're also finding big red fish following schools of mullet especially behind this weekend's cold front we'll see some mullet flushing and behind those mullets should be some big bull Reds looking for cut bait on the bottom or slow-moving soft plastics.
Snook action is going well in the back bay area. Look for them around the mouths of creeks, rivers, and bayous. However, this past week when it warmed up those snook came out of those areas and spread out onto the flats and mangrove shorelines pretty nicely and fed Actively. We will likely see a similar pattern this week behind this weak front things should calm down and warm up pretty quickly and those snook will probably do the same pattern and come back out of those mouths of creeks rivers bayous and feed actively around local grass flats mangrove shorelines and residential dock lines. Snook loved the live shrimp this time of year the small crabs, soft plastics, and even slow-moving swimbaits.
Trout have been really active around our local grass flats especially around the edges and potholes we've been seeing some trout around the bridges at night and even out on the beaches too. However, most of the trout action is in the back bay around those shallower grass flats and the potholes cuts and edges. Trout are especially keyed in to live shrimp this time of year or the super light jig heads and paddle tails.
This week as that cold front recedes, and the weather calms down and clears up, we should see water clarity spike and we'll likely see action on the beach pick up with Pompano Whiting and silver trout. This past week we saw some good action as that water cleared up towards the second half of the week we'll probably see a similar pattern this week.
Nearshore Report
Right now, near shore we're seeing a really good bite of hogfish! The hogfish action is going well and should continue to go well until that water starts to warm up. We're not very far from the water warming up so get out and get your opportunity for good biting concentrated hogfish prior to this spring setting settling into our area. Right now, we're seeing those hogfish on our five-hour half days and 10 hour all days pretty heavily along with some of the private fishing charters as well. The hogfish love light tackle especially smaller hooks and live shrimp. Typically, we're using around three to four out hooks and live shrimp for the hogfish action. They normally will bite the naked ball jigs or other ball jigs or the banana jigs plus, we get them on the knocker rigs too. The best place to look for the hogfish is right around 30 to 70 foot of water typically. We find them on smaller hard structure like small ledges and rock piles. We also find hogfish over large areas of flat hard bottom especially areas with sea fans and small coral heads that hogfish loved to camouflage with. You can even find hogfish commonly on that shell bottom adjacent to areas of hard bottom or bigger ledges. It's a lot easier to target hogfish and smaller structures In these areas because there's less more aggressive fish around. Around larger structures and larger reef complexes there's often too many other more aggressive fish around to really target hogfish with hook and line with any level of efficiency or effectiveness. The reason is hogfish are typically very leader shy and slow to bite very unaggressive fish for the most part. Typically, you have to catch a bunch of the other species around that are more aggressive and kind of get them out of the way before you can start catching the hogfish with hook and line. Fishing with us on a party boat can sometimes make it a little easier because there's other people on board helping you do that work when you're out fishing by yourself or in a buddy's boat makes it a little bit more challenging because you got a lot of fish to catch before you can get those hogfish chewing.
Also, we're seeing a lot of good lane snapper action in this area that we're targeting and catching the hogfish we're seeing big numbers of pretty large average size lane snapper. The lane snapper have increased in average size dramatically plus expanded their spatial range dramatically too that simply means we find them in a more broad area than we ever have before. Before when I was growing up we would catch lane snapper occasionally anywhere from about 30 to about 90 foot of water nowadays you catch lane snapper regularly anywhere from the beach all the way out to 160 to 180 foot of water it's incredible how often and how broadly we see them across a large geographic region. Lane snapper are a really good eating fish they have nice white meat and they'll bite just about anything we put down which makes them a fun target for any experience level angler. Lane snapper are typically like mangrove snapper and they're going to be pretty hard bottom and structure oriented.
Speaking of mangrove snapper, we're seeing a decent mangrove snapper bite near shore especially on our ten hour all days in private fishing charters. Typically, we're catching the mangrove snapper using the live shrimp or cut thread fins. However you can catch mangrove snapper using live shrimp as well.
Red grouper action is going pretty good near shore too we're seeing a lot of those juvenile red grouper while targeting the hogfish lane snapper and mangroves and shallower near shore waters. In order to get cheaper red grouper and better concentrations we're having to fish in the much deeper offshore waters as deep as you can go near shore around 100 foot to a shallows around 70 foot is a good depth range to have a better chance at finding a keeper red grouper near shore. Once we get deeper the red grouper bite is much better and we're much more often seen keeper size right grouper out in this depth range.
Offshore Report
We are pumped our offshore 39 hour fishing trips 44 hour fishing trips are finally starting back up February 10th we have five total long range trips in the month of February starting February 10th enabling us to really get out there and target those mangrove snapper, red grouper, scamp grouper, almacos, vermillions, porgies, and many other species with great effectiveness and efficiency. Lots of light loads in February and March and even into April and May prior to the chaos of red snapper season. It's a great time to get out there on one of these long-range trips and catch plenty of good eating red grouper and scamp grouper. February and March those red grouper and scamp grouper are open for harvest, but you have to contend with that 20 fathom closure which means simply we fish a little deeper and catch snapper at night and then during the day we come in a little bit inside the closure line and are able to catch and keep the red grouper. The 12-hour extreme has been doing really well on the red grouper we're looking forward to continuing that trend through February and March.
Mangrove snapper action is going really well offshore too we're seeing some really large average sized mangrove snapper with some good success on our long range adventures from the 12 hour extreme to the private fishing charters and soon our long range 39 hour trips once again. Definitely the double Snell rig with the cut threadfin is our favorite methodology to target those mangrove snapper offshore.
We're also seeing big porgies, Vermillion snapper, almaco jacks, and many other species mixed in with the mangroves, red grouper, scamp grouper and other good eating fish that were able to catch and keep this time of year offshore.
Pelagic wise this time of year blackfin tuna are typically the most commonly caught fish. However, there's still some kingfish around depending on those currents and what the water surface temperature looks like. Plus this time of year, you'll always have a chance for the wahoo as well.