Florida Fish Report
HM Fishing Report 9-29-23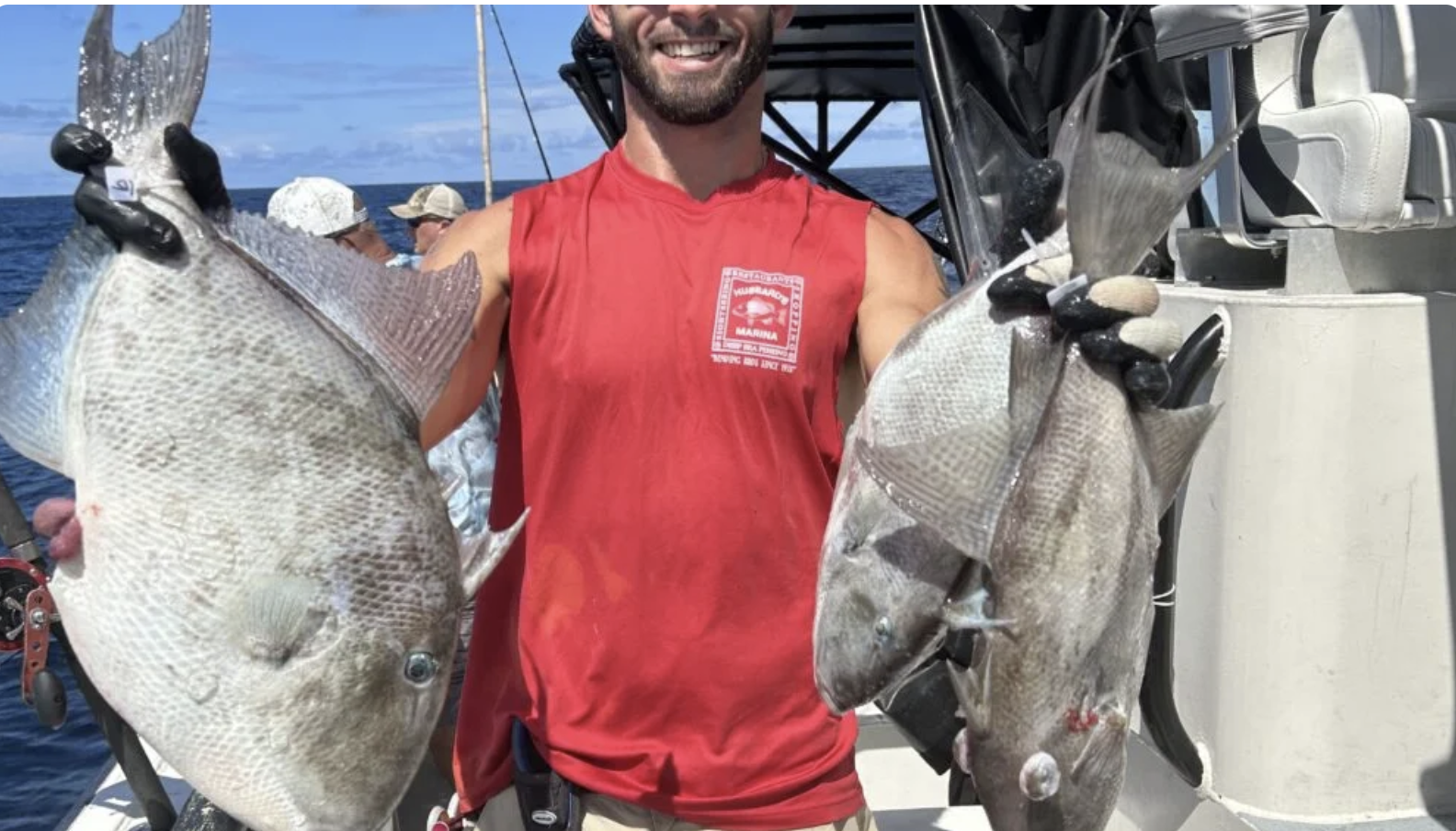 by Hubbard's Marina Staff
9-29-2023
727-393-1947
Website

Inshore Fishing Report
Redfish bite is HOT around the area from the bays to the beaches and all in between it's a super hot redfish bite right now and its primetime redfish action time! If you have ever wanted to try and get one now is the time throughout the area. We are seeing them heavily around the back bay waters and mangrove shorelines. At higher tides, they back up into the mangroves or 'get into the trees' as they say. While at medium and lower tides they get into schools and roam the flats, edges, bars and oyster beds. We are finding them in bigger concentrations and good aggressive numbers. It's a great time to go looking for some redfish around your local flats at mid to low water. They seem to be biting a variety of baits but definitely a crowd favorite is the soft plastic imitation shrimp or paddletails. Live bait wise we see more action on shrimp around the pass but that's only what people are using, while I hear white bait is working best in the bays but that's because most of the boaters are cast netting the bait. To me it seems most anything you throw will work as they are fired up!
Snook action around the pass has slowed up a bit as we see many of the fish receding to the back bay waters as the days get shorter and we move towards the onslaught of cool and cold fronts. We are seeing less and less snook stacked up around the dock and bridge lights in the early am while prepping for our offshore and near shore adventures. The beaches are the same as its less and less common to see numbers of snook cruising the swash channels in any concentrations or consistency. However, those fish are all moving just a little ways back to the grass flats, mangrove islands, and points of canals hanging on docks as they retreat to the back bay winter spots. This is a great time to find plenty of snook actively feeding in transition but you have to hit those areas where they can stage and ambush baits with little effort and relative topography or coverage to provide them some coverage from dolphins and tidal flows.
Sheepshead action is starting to pick up as we see numbers of mangrove snapper starting to lessen in those areas like dock lines, bridge pilings, rock piles and other hard structures. As the waters continue to cool and cold fronts stir up our inshore waters the mangrove snapper start to dissipate while the sheepshead concentrate.
Flounder action picking up around the area especially around bridges and docks and down tide edges of flats where they can ambush passing baits that venture too close to the sandy bottom they hang on. This is typical through the fall while they fatten up for their near shore journey to spawn in the winter months.
Pompano action still happening around our sandy passes, cuts and channels and around inshore bridges. We find them on the edges of flats too hunting live shrimp and other crustaceans.
Triple tail action is picking up and we are starting to see some big fish caught from upper bay to the beach areas. Look for them around floating debris, buoys or channel markers as you cruise the inshore waters. Tossing them a free lined greenback or live shrimp or even overcasting and working back a soft plastic is a good method to get you a nice triple tail!
Nearshore Fishing Report
Hogfish action is going well for us on our private fishing charters, but you can get a chance for them on the five hour half day and really target them decently from the ten hour all day too. Hogfish love themselves some live shrimp or fresh dead shrimp, but they really are leader shy and finicky. Often they are the last to bite a bait in the pecking order of fish. However, when we get em chewing often we have a chance to get a handful before having to move and start that process over again. We overcome this by sticking and moving between areas till we find the depth and area the hogfish are hanging then once we get one we stay till the bit dies down, but then we move to something else in that similar depth range and dial in the tactics on how the fish are laying on the ledge or structures.
Lane snapper are also coming up near shore in good numbers in similar areas tto the hogfish and we are seeing them throughout the near shore waters until well offshore too. They are more of a bycatch for us while targeting lane snapper, but if your fishing a trip and not interested in playing the hogfish lottery with lots of live shrimp fishing squid will get you plentiful white grunts or grey snapper along with plentiful lane snapper too!
Offshore Fishing Report
Gag grouper remains our predominate focus while offshore fishing and we are doing pretty well on them overall, but it has slowed a bit from behind the recent hurricane. When season opened September 1st we had some stellar gag grouper catches from behind that storm that hit right at the end of august and much of the area we fished all red snapper season was holding plentiful gag grouper that were actively feeding for us. These areas and depths are now starting to slow a bit so we are on the hunt following the fish as they move. We are hoping for this weather coming up to bunch them up again and make it easier for us to target cooperative concentrations. We haven't been doing badly but its just not the crazy 40-50 keeper gag trips we had behind the hurricane at the start of season either. The recent 39 hours have been seeing anywhere from 15-30 keeper gags and the extreme trips around 8-16 where both were nearly double those numbers the first two weeks or so of September. Much of this could be due to the moon spreading those fish and moving them around more. Plus, the photo period continues to shrink which is inspiring plenty of movement too. However, we are confident with our large fleet of vessels that are fishing so consistently that we will be able to get back on the biomass of gags and go to work catching up plenty of fish. We are seeing good action on larger dead baits like the butterflied porgies, white grunts and other larger bait fish we can run across. We are still getting some on the live baits but recently the bigger dead baits like large bonita chunks or strips or even half a smaller bonita are great options if you have a large enough hook to match your larger baits. The heavier tackle is always a good idea too especially when soaking a bigger bait for a bigger fishing using around 100-125lb test is the best idea.
Mangrove snapper fishing has been going well for us offshore too, great time to capitalize on that and catch plenty of good eating mangrove snapper while offshore fishing with us at Hubbard's Marina. Plus, we have super light loads right now which further enables you to spread out, get plenty of one on one time with the crew and get to pick their brains more too on tips, tricks, techniques and more. This is a special time of year where it's not too hot anymore, the cold fronts haven't started to heavily, and we are still catching plenty and enjoying super light loads. As the water to continues to cool and the snow starts up north we get that annual flood of our fishing friends coming south to hang out with us for the winter. We love this time of year during the transition period to capitalize on lighter loads, great fishing and more one on one time with the captain and crew.
Yellowtail snapper and even some mutton snapper coming up quite a bit lately offshore too! These are both species historically we didn't catch a ton of, but now were seeing plenty and really doing well getting after it offshore and near shore. The yellowtail love them some smaller strips of squid cut into little 2-3 strips only maybe a quarter inch wide. They will also bite cut up threadfin while we are targeting mangrove snapper.
Triggerfish season persists and were seeing some bigger triggerfish right now too. Much like the yellowtail they love the cut squid strips. However, anything super oddball and chewing they seem to love.