Florida Fish Report
Offshore, right now, we are very focused on catching red snapper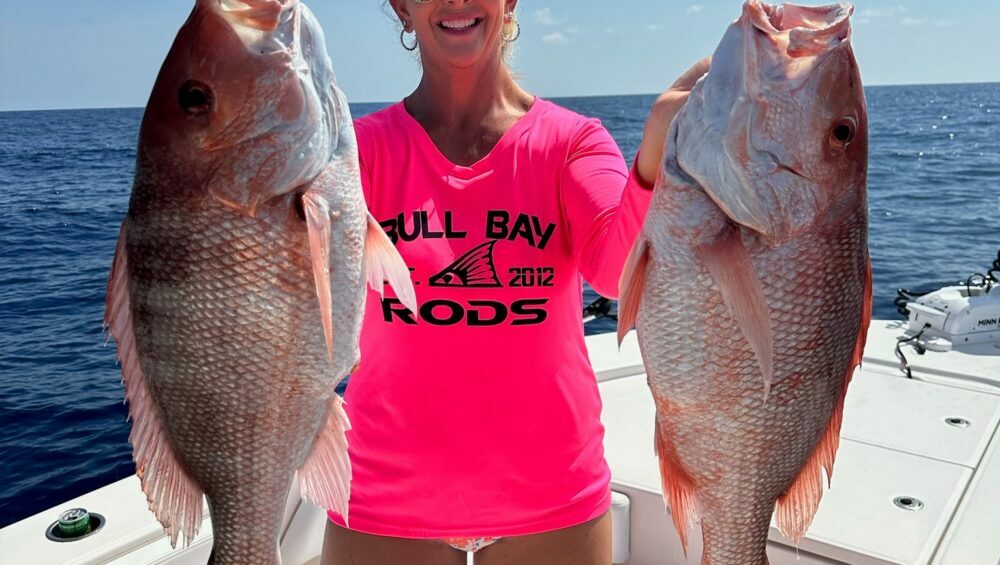 by Hubbard's Marina Staff
7-9-2023
727-393-1947
Website

inshore Fishing Report
We've been seeing a lot of snook around the pass, especially at night and early morning. Once daylight sets in, snook are more active on the beach and in the back bay area compared to the passes. However, during the day, we are seeing a few snook hanging around underneath the docks in the pass. Generally, on the beach, lighter tackle with minimal weight and small hooks is a good idea. We've been having a lot of success targeting snook with pinfish, pigfish, and live shrimp. In the pass, live pinfish is a good idea, or a large live shrimp if you can find one. The water has been super clear around high tide and getting warmer, so the outgoing tide allows for a bit heavier tackle, but the super clear incoming tides require lighter tackle and a more stealthy approach.
Snapper, especially mangrove snapper, have been super active around virtually any structure in our back bay area lately, from docks to piers to bridges and everything in between. Any hard growth will have a lot of mangrove snapper around it. We've also been seeing a lot of sheepshead. Smaller chunks of live shrimp and cut whitebait are great options for the prolific and aggressive mangrove snapper. A little bit of chum will get them super active, clouded, and concentrated.
There are still a few tarpon around, but it's important to handle them quickly and ensure their survival. Recently, we found two dead tarpon floating through the pass that seemed to have been caught and released. They were too tired and unfortunately died. So make sure to handle tarpon quickly, unhook them, revive them well, and let them live to fight another day. There aren't a ton of tarpon around, but we've seen quite a few move through the pass.
Redfish action has been going well in the back bay area around the mangrove shorelines, grass flats, boyster bars, and other back bay structures that attract bait. Redfish are most active in the early morning and late afternoon when the shadows get longer and the fish have a reprieve from the heat. Soft plastics are a great idea for targeting redfish, but you have to remember that the fish are super lethargic and moving slowly. Cut bait works well for redfish too.
Black drum have been active around the back bay bridges. The Terra Verde bridge is the closest one to us that I would recommend trying to fish for big black drum. We also see quite a few around the deck Meisner bridge, and those with boats often target the Gandy bridge with success. Black drum love large crustaceans hanging out on the bottom, whether it's a big shrimp or a crab.
nearshore Fishing Report
Mahi-mahi have been more common nearshore as we approach the hotter part of the summer. We've seen mahi as shallow as 40 feet of water on our five-hour half days, but they are more common beyond about 60 feet of water or more. The 10-hour all-day trips have seen quite a few as well, and even nearshore private charters have been catching them. Once offshore, they become even more common. It's a great time of year to have your tackle ready and fish with a flatline, as you never know what might swing by.
Lane snapper have been pretty active nearshore as well. We're seeing a lot of them around 60 to 80 feet of water and beyond. Lanes are most active on squid, but we're seeing them taking shrimp and cut bait too.
Mangrove snapper are somewhat common nearshore. We've seen quite a few as we go deeper nearshore. However, the average size of mangrove snapper has gone down quite a bit due to a huge influx of juvenile mangrove snapper nearshore and offshore. We're even seeing undersized mangrove snapper in waters as deep as 150 feet offshore. This is a great sign for the future of the fishery, although it can be frustrating to catch smaller mangrove snapper in deep waters. Nonetheless, we're seeing mangrove snapper throughout the entire region, from nearshore to offshore.
Hogfish are pretty few and far between this time of year. Once the water gets warm, they spread out and become lethargic. Most of the time, you'll only find hogfish at the dock because someone made a commercial spearfishing trip and is selling them down at Dons Dock at our new seafood market. We have caught a few on hook and line during our trips, but they are super hard to target and very scarce this time of year.
Red grouper action nearshore is pretty tough. When we fish a little deeper nearshore, we have a chance to catch some keeper red grouper, but we're not seeing a ton of them until we get into the deepest nearshore waters. Once we're offshore, we have a much better chance of catching large red grouper. Most of our nearshore red grouper are undersized or smaller.
Offshore Fishing Report
Offshore, right now, we are very focused on catching red snapper. The red snapper fishing continues to be really good for us as long as we find an area where they're active. That's been the biggest challenge, staying on top of the active fish and determining their depth. Some trips we find them early and they're feeding well, so we can stay in that area and target them throughout the trip. Other trips, we have to hunt around and work hard to find the actively feeding fish and good concentrations. So, it's been a bit of work, but we've been able to put together great catches of red snapper so far this season. We just have to locate the concentration of fish we're looking for. Fishing deeper has been the best option for us, generally around 240 feet deep or deeper to find those red snapper. Dead bait, specifically cut Bonita strips, has been a favorite for red snapper. Live bait works well too, but lately it's mostly a dead bait bite.
Red grouper have also been biting well for us offshore. Unlike red snapper, we've been seeing more keeper red grouper on live bait. Red grouper seem to be more attracted to live bait compared to red snapper. We've definitely seen some big red grouper come up on Bonita strips as well, but using pinfish has given us a few chances at some big fat red grouper too.
Scamp grouper fishing has been going well for us offshore as well. We're seeing a lot of scamp grouper as we fish deeper for red snapper. Small to medium pinfish, vertical jigs, slow pitch jigs, and cut threadfins work well for targeting scamp grouper. Most of the time, we encounter scamp grouper while targeting mangrove snapper with cut threadfins.
Mangrove snapper fishing has been successful for us offshore as well. We're seeing a lot of mangrove snapper while fishing for red snapper, red grouper, and many other species. Mangrove snapper have been biting well throughout the offshore waters, from the deepest parts to the most shallow areas we fish. We generally target mangrove snapper with around 40 to 60-pound leader, double-smelled six-aught hooks, and cut threadfins. We also encounter yellowtail snapper, mutton snapper, vermilion snapper, porgies, Almaco jacks, and many other species while targeting mangrove snapper. The numbers of yellowtail snapper and mutton snapper have been higher than normal. We've been seeing a handful of mutton snapper, around 10 to 12 per trip, and anywhere from 50 to 250 yellowtail snapper per trip.
Almaco jacks, porgies, vermilions, and many other species have also been common offshore. It's a great time to capitalize on a variety of different species as we fish all over the Gulf for these plentiful, aggressive, and underrated red snapper. However, keep in mind that once offshore, it is extremely hot, and you are far from the nearest help. So, make sure to stay hydrated. Often people get excited and neglect their sleep and preparation for a fishing adventure, and then on the boat, they don't eat well or drink enough water. This can lead to problems quickly. Make sure to get plenty of sleep, eat a healthy diet, and stay hydrated during your fishing adventure. We've already had a handful of people experience overheating issues, and we don't want to see any more occur. So please take care of yourself in preparation and while offshore.
Pelagic action has been good for us offshore as well. As mentioned in the nearshore report, we are seeing some mahi-mahi around. Make sure to have your pitch rod ready. I recommend a Gotcha plug in the 1-ounce size for mahi-mahi. If they show up, it makes it easy to target and retrieve them quickly, and you can cast it really far underhand. We've also seen quite a few blackfin tuna, a handful of kingfish, and you might even find a wahoo while offshore too. We have the Nomad BTX minnows and Rapala X-Rap Magnum lures in our shop, and people have been using them with great success for tuna, wahoo, and kingfish."