Florida Fish Report
Hubbard's Marina Fishing Report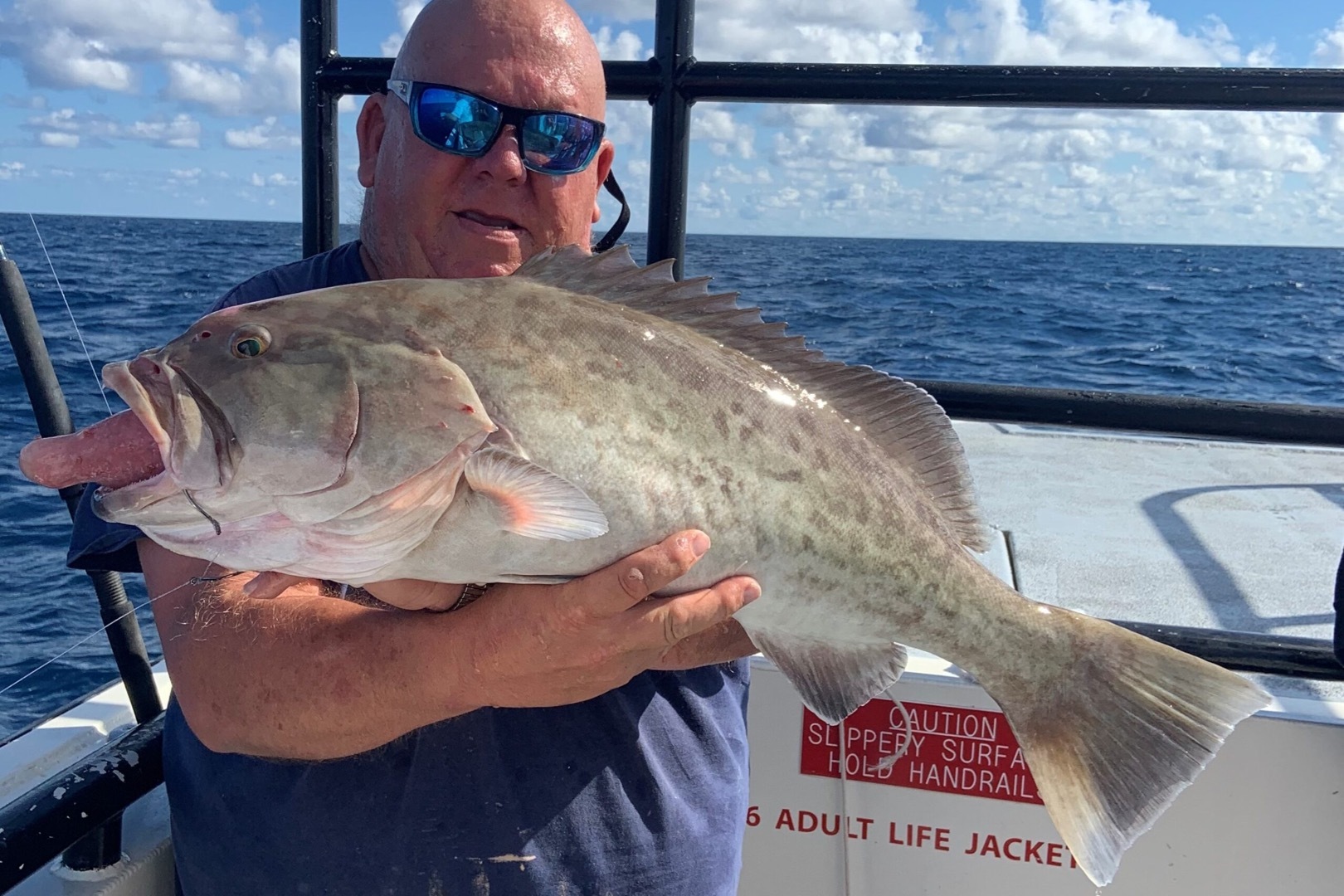 Gag Grouper
Photo Credit: Hubbard's Marina
by Hubbard's Marina Staff
9-23-2022
727-393-1947
Website

Inshore Fishing Report
Mackerel are thick around the mouth of the bay and the bay area bridges and by most any structure with deeper faster moving water with any bait present. These guys are choked around local fishing piers as well. Any sort of fast moving and flashy artificial lure is a good option to get a hungry mackerel to eat. However, the further you cast it and the faster its retrieved the better. Typically, one of my favorite go to mackerel lures for ease of use, casting and good retrieval speed is a gotcha plug. Cast long and let it sink then retrieve quickly with the occasional pause to let it sink more. These guys are extremely fast, so they want a quick moving bait. Remember, near shore we often catch them trolling as fast as 10mph so you can reel as fast as you want and they will be able to catch up and eat! Look for birds, bait on the surface, or fast-moving water around structures or passes to find the mackerel. This past week when I took my kids out fishing every pass we hit were loaded down with hungry mackerel very ready to chew.
Redfish action is going extremely well throughout our area. We are seeing these fish school up together more and more in preparation for their move near shore to spawn. We are seeing them up on the flats, around the mangrove islands and even some oyster bars in larger concentrations. Higher tides they are still cruising the mangroves while lower tides the flats are a good place to look. Many of the deeper flats towards the mouth of Tampa bay are good areas to find them as they stage up to move out of the bay.
Snook action still happening on the beaches, and decent numbers are still stacked up in the passes. However, the good number of snook have already retreated further into the bay. Look for them on the flats, cruising dock lines, or around the mangrove islands or points of residential canals. They are currently moving slowly to the back bay areas where they spend the winter like creeks, rivers, bayous, and other areas that have that dark bay mud that will radiate heat and keep them warm as the cooler weather begins. However, until that time they are working their way slowly and eating well along their journey. The white bait has choked the bay and inshore areas so they are definitely more orientated to this during this time of year, but the shrimp and crabs may work if you find them ready to eat.
Trout action is still picky in areas, while others are holding better numbers. We are still seeing them overall in deeper areas as the water is still pretty warm, but they have retreated slowly to more shallow flats. Right now, around 3-5ft of water is a good place to start looking for some hungry trout ready to eat.
Tarpon are still around some bay area bridges and around some passes. They are quick to eat a big threadfin or smaller ladyfish and some are hooking them while fishing for snook with big bucktails or twitch baits. There's also some moving to the upper bays and those fish typically hang out all year.
Shark action is going well still around the area, but they have started to dwindle in the concentrations. We are seeing less and less of the smaller more prevalent summertime species, but we start to see the bigger and less prevalent species this time of year as things cool off like tigers, whites and makos which stay more near shore and offshore. However, the bull sharks, blacktips and spinners and others will stay around in the bay all year but they stop with such high production of pups.
Nearshore Fishing Report
Mackerel action is going really well along the near shore waters especially those artificial reefs. We are seeing the mackerel along the beaches in a shallow as 10 to 12 foot of water all the way out to around 40 to 50 foot of water. Typically it rolling is the best way to target these quick biting good eating and fun to catch mackerel. They love biting on that rolling spoons behind a number one or #2 planner. We typically use spoons anywhere from 2 to 6 inches long in a variety of colors. The best way to rig the spoon is about 10 to 15 feet behind the plane are using a snap swivel on the back of the planner in front of the spoon. All you need is 2 maybe three rods out the back of the boat trolling between 4 to 7 knots or around 5 to 10 miles an hour. Once out in the near shore waters or along the beaches troll the crab trap lines and watch for birds or bait on the surface. You could also start at one of our nearshore artificial reefs which makes finding the mackerel and the bait a little bit easier. Once you find the mackerel you could anchor up and then start to chum with greenbacks or thread fins throw in a handful of live ones out with quite a few dead ones and often you can chum the mackerel to the back of the boat and get them feeding very acrobatically and aggressively. Then once chummed up sending out a few live baits with long Shank one out hooks or smaller hooks with a short piece of light wire is a great way to target plentiful mackerel and have a great time doing it.
The hogfish bite is picking up noticeably, but we aren't having the crazy big catches of the keeper sized hogfish quite yet. We are looking forward to things cooling off a bit and the hogfish getting more and more concentrated and ready to chew on the hook and line. They will only get better and better as water cools and were looking forward to that exciting time of year where the five and ten hour all day trips start to see dozens of these great eating fish being caught and kept. Hogfish like light tackle and live shrimp, but sometimes when deeper we find them biting a bit of everything. In shallower near shore waters using around a 3000-4000 series spinning reel, 30lb floro leader, 4ot hooks and around 1oz egg sinkers is a great way to target the hogfish.
Lane snapper fishing is going well around the near shore waters and we are seeing them biting the squid and live shrimp. Light tackle like the hogfish is a great way to target the lane snapper too and we often get them as bycatch while targeting the hogfish. Lane snapper love around 50 to 80 foot of water and we see them often on our 10 hour all days and occasionally on the five hour half days.
Mangrove snapper fishing has been really going well deeper near shore on our 10 hour all days. We are seeing a few on the five hour half days but they're less common and typically a little smaller in the shallower near shore waters. Mangrove snapper loves small chunks of threadfin on cut double Snell rigs. We typically use around 4 OTT hooks on the double Snell rigs for mangrove snapper near shore. Light leader and lighter lead is a good option for these leader shy smart quick biting mangrove snapper. This time of year we see quite a few mangrove snapper that are normally pretty large in the near shore waters.
Red grouper fishery has closed, but they are hard to avoid when fishing near shore. We are still seeing lots of super aggressive small to medium red grouper, while it's a great sign for the future of our fishery, it does create bit of an issue. You really need to be aware and make sure you get these guys up quickly, dehooked quickly, and back in the water quickly either with a venting tool or descending device if needed. If they are floating away dead then they will never get big enough for anyone to keep so make sure you are prepared with a good quality dehooking tool, like our hook extractor here: https://bit.ly/dehooker
Offshore Fishing Report
Offshore fishing right now we are very focused on the gag grouper scamp grouper mangrove snapper triggerfish and amberjack however we are seeing a lot of the big mangrove snapper mixed in with plentiful big Vermilion especially once we are fishing passed around 120 to 140 foot of water. Offshore fishing right now you always want to make sure you have a flat line ready because we're seeing a good number of the big blackfin tuna cruising by our boats while offshore. Typically we're even catching them on dead thread fins but alive pin fishtail hooked with around 40 to 50 pound liter and about a three to five at circle is a great way to target the blackfin tuna we are also seeing the occasional kingfish and you have a chance for even a wahoo wall offshore this time of year.
Gag grouper fishing is going pretty well while out fishing deep but you need some big live baits and some big tackle to land these quick biting super aggressive fish. However, gag grouper are extremely leader shy and smart fish so they typically they will look at your bait for quite a while before biting. You will need a lot of patience and a lot of skill with a side of luck to land big gag grouper consistently we are seeing them bite on big live baits and some big dead baits as well but as the water cools the big live bait becomes a better and better option for the big gag grouper. Gag grouper fishing will continue to improve as water cools and they will continue to move shallower and greater numbers in higher concentrations around the ledges rock piles and any good structure that's going to hold bait. Typically, it takes a few good cold fronts to get the gag grouper on the move but we are already starting to see some good numbers of gag grouper with very white sand colored bellies which is a good indicator that the gag grouper already on the move or at least getting ready to move large distances.
Mangrove snapper fishing is going super well out deep right now. This is the time of year we start to see a higher average size of the mangrove snapper in greater quantities. These bigger mangrove snappers love the smaller pin fish the threadfin chunks on the double Snell rig and even occasionally you can get them on some some assorted jigs. Mangrove snapper fishing is typically best at night around those moon phases like the full moon first or last quarter moon. However, sometimes on the new moon if you get an overcast day the mangrove snapper fishing during the day can be incredible too.
Vermilion snapper are very large right now and we're seeing them in good numbers out deep once passed around 140 to 160 foot of water. They love anything from cut threadfin to squid to even shrimp and we see them typically in pretty good numbers while fishing for gag grouper scamp grouper or mangrove snapper. While Vermilion snapper aren't always a targeted species, they do make a great bycatch and a good eating fish to add to your Stringer.
Triggerfish action has been going super well out deep too we've seen good numbers of larger triggerfish lately. Triggerfish love anything from squid to thread fins and even occasionally they will bite smaller pin fish however if you are going to drop down to target a triggerfish a small squid chunk or squid strip is preferred they have small mouth so typically smaller hooks and lighter tackle is a good idea to target the triggerfish while tough to fill a triggerfish are incredibly good eating fish and fun to catch because they're large profile bodies typically give up a pretty good fight as U-Haul them to the surface.